Are You Ready for 2014? Mobile Ready, That Is?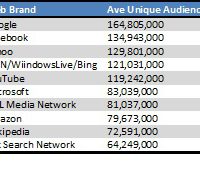 One of the most exciting things about the end of one year and the beginning of another is the chance to see how things played out, and to get a feel for how they will likely look in the year ahead. With the "Digital Boom", it probably isn't too surprising to see all things digital on the rise. The question you should be asking yourself right now is "Am I ready?" It's more than just a boom. Social media continues to soar in popularity, and video is taking things to a completely new level. Cross-platform and mobile optimization are not just big words we hear thrown around by those in the know, they are crucial elements of any brand's digital footprint. TV is still the most popular advertising tool for media buyers — but according to Chicago-based Strata, the media-buying and selling software company, with only 44% of survey respondents saying "they are more interested in advertising" on it, this is the lowest score in three years.
Digital Media
Digital media, on the other hand, had another banner year in 2013, and some of this year's trends may provide clues as to what may lay ahead next year. Mobile traffic accounted for nearly 32% of all online shopping traffic on Cyber Monday — up 42% compared to the same period last year, according to the latest IBM Digital Analytics report. Plus, mobile sales exceeded 13% of all online sales — up 54% year-over-year, according to IBM's research unit.
Top 10 U.S. Web Brands for 2013
DATA FROM JANUARY 2013 – OCTOBER 2013 (TOTAL). RANKED ON AVERAGE MONTHLY UNIQUE AUDIENCE. READ AS: DURING 2013, 164.8 MILLION UNIQUE PEOPLE, ON AVERAGE, VISITED GOOGLE EACH MONTH. SOURCE: Nielsen.
Multiscreen Shopping
Another emerging trend this season is multiscreen shopping. As more Web users shift to mobile and tablet screens, Web activity using computer browsers declined slightly among the top 10 websites. While smartphone traffic accounted for 20% of all online traffic — versus tablets at 11% — it's clear that smartphones were the browsing device of choice for digital consumers. However, when it came to making actual purchases, tablet users drove close to 9% of online sales – almost double the total for smartphone users, who drove 4.6%.
Smartphones and Smartphone Apps
Smartphone penetration grew from 56% at the start of 2013 to nearly two-thirds (65%) of U.S. mobile subscribers by October 2013, and a majority of subscribers used Android (52%) or iOS (41%) smartphones.
Top U.S. Smartphone Operating Systems by Market Share

AUGUST 2013 – OCTOBER 2013 AVERAGE. READ AS: DURING THE LAST THREE MONTHS (AUGUST THROUGH OCTOBER 2013) 52% OF SMARTPHONE OWNERS IN THE U.S. HAD A HANDSET THAT RUNS THE ANDROID OPERATING SYSTEM. SOURCE: Nielsen.
Along with growing ownership came increased activity using smartphone apps: Facebook remained the most-used smartphone app across Android and iOS handsets, with more than 103 million unique users each month. Among the top 10 apps, Instagram was up 66% in terms of unique users, making it the fastest growing app over the past year.
Top Smartphone Apps for 2013
DATA FROM JANUARY 2013 – OCTOBER 2013, AMONG SMARTPHONE OWNERS 18+ (IOS AND ANDROID ONLY). RANKED BY AVERAGE MONTHLY UNIQUE USERS. READ AS: DURING 2013, 103 MILLION SMARTPHONE OWNERS USED THE GOOGLE SEARCH APP ON AVERAGE EACH MONTH. SOURCE: Nielsen.
Online Video
Online video viewing, however, continued to grow, and YouTube remained the top source for streaming, as 128 million Americans viewed video content on the site each month. Online video audiences are expected to double in 2016, reaching 1.5 billion globally, and an increasingly significant portion of them in the future will watch video or TV content on social media platforms like YouTube, Facebook, and new mobile-focused social video apps like Vine.
 Top 10 U.S. Online Video Brands of 2013
DATA FROM JANUARY 2013 – OCTOBER 2013 (TOTAL). RANKED ON AVERAGE MONTHLY UNIQUE VIEWERS. READ AS: DURING 2013, 128 MILLION UNIQUE U.S. PEOPLE, ON AVERAGE, STREAMED VIDEO FROM YOUTUBE EACH MONTH. SOURCE: Nielsen.
(SOURCES: businessinsider.com, mediapost.com, Nielsen.com)