A Daily Grind Could Lengthen Your Life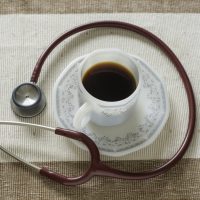 Drinking coffee can reduce your chance of death from liver disease, stroke, and heart disease
Researchers from Imperial College London and the International Agency for Research on Cancer (IARC) published findings in the Annals of Internal Medicine today, indicating that death from all causes (circulatory and digestive illnesses in particular) occurred 18% less often for men and 8% less often for women who drank three or more cups of coffee a day.
The data, amassed from over 16 years from more than half a million people residing in 10 European countries, correlates with research performed at USC of more than 185,000 domestic coffee drinkers. The most likely influential factor is thought to be coffee's unique chemical makeup, being loaded with antioxidants and phenols which may prevent cancer.
Other studies have shown that coffee drinkers may have a lower risk of type 2 diabetes, drinking coffee on a regular basis may lower the progression of cirrhosis and liver cancer, and caffeine may help prevent gallstone development and decrease the risk of Parkinson's disease. So the next time you pass by your local hip coffee shop, it may be well worth your while to stop in for a cup and, while you enjoy your steaming hot fountain of youth, keep your devices in airplane mode and strike up a conversation.