Depressed? Google it.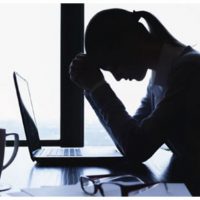 Doctors find that people are more prone to self-diagnosis than ever even though the correct diagnosis is found online a mere 34% of the time. To make matters worse people are spending more and more time in front of a computer or other screen which, in and of itself, may be a catalyst for depression.
Google and the National Alliance on Mental Illness (NAMI) have teamed up to implement a tool that analyzes search terms for signs that a user may be suffering from depression. This is especially important in that 50% of people with depression never seek treatment and those who do typically wait six to eight years after the onset of symptoms.
The tool is a simple pop up box that appears at the top of Google's results when a keyword or phrase is typed that asks "Are you Depressed?" If the user clicks Yes, it leads them to a Patient Health Questionnaire, the PHQ-9, a clinically approved method of screening for depression and that is used by the NHS.
The PHQ-9 is an extremely accurate method of diagnosing depression. In 2001, it was used on 6,000 patients across the United States, and was found to correctly diagnose major depression 88% of the time. The hope is that by asking people to self-diagnose their mental status, they may be more prone to seek treatment. Google also says that the information provided will not be shared, which offers additional peace of mind.