Energy Key Findings – March/April 2010
Online Transaction Trends
Most Americans (84%) made at least one online transaction in 2009, including 68% who shopped online, 60% who handled their finances, 56% who booked travel, and 18% who bought insurance. Almost one-half (48%) conducted more online transactions than they did in 2008 because doing so allowed them to compare products and prices (72%), to take advantage of online-only sales (59%), and to save money on gas (45%).
However, the number of times they purchased something online in a typical month fell to 3.1, down from 3.4 in 2008 and 3.6 in 2007. They spent an age of $102 per shopping session in 2009, compared to $199 in 2008 and $130 in 2007.
More than one-quarter of shoppers who had trouble with an online transaction (26%) shared their experience with the company on its website (down from 32% in 2008), while 12% wrote about it on a social networking site or blog (up from 6% in 2008).
Environmental Actions
One third of Americans (32%) say they have thought hard about their personal impact on the environment, compared to 37% who have thought little about it. The following chart shows which actions they are likely to take.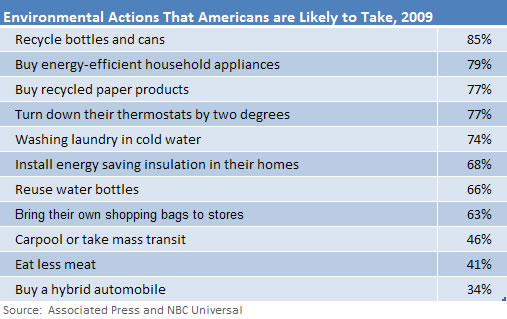 Paying for Online News Sources
One in seven Americans (15%) currently pays to access news online. They fall into these three paying categories equally: $1-5 per month (5%), $6-10 per month (5%), and more than $10 per month (5%).
American's current sources of news are primarily free: 65% get news from broadcast TV, 51% from online portals, 50% from TV station websites, and 35% from the radio. Most (56%) get news from cable news channels, 36% use local or regional newspapers, and 30% subscribe to national newspapers.
Some 48% of Americans are willing to pay for online news. The following chart breaks down the amounts they are willing to spend.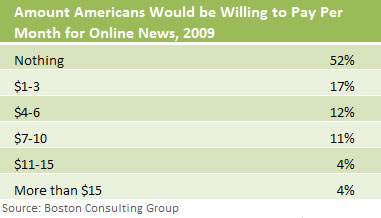 B2B Digital Budget Forecast
Typically, business-to-business marketers spend over one-half of their digital budgets on their Web sites, which is expected to grow 7.5% in 2010. Search engine marketing, which accounts for 15% of budgets, will grow 17%. Webinar related expenditures will rise 26%, video sites approximately 153%, and social networking 43%.
According to Outsell, business-to-business firms plan to cut their mobile marketing spending by 38% in 2010. From 2008 to 2009, their mobile spending had grown 5%.
Digital marketing expenditures by all U.S. advertisers will surpass those of print for the first time during 2010. Print spending will about 3.2%, while online spending is expected to grow almost 10%.
Workplace Favoritism
Almost four in 10 employees (38%) say there is departmental favoritism at their workplace, according to CareerBuilder. Sales departments (15%) get the most preferential treatment, followed by human resources (11%) and accounting/finance (6%).
The following chart shows which factors influence employees' concerns.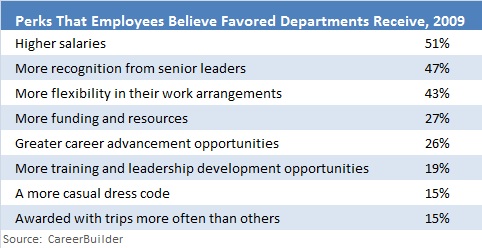 Family Business
According to a study by MassMutual, owners of family businesses say they enjoy several benefits from starting and running their own company. The list includes:

However, they also report the following problems with this arrangement:


Family business owners report that the most trusted person in the business is their spouse. However, they mostly look to others for business advice such as accountants (55%), and lawyers (43%) before they turn to their spouses (43%).
Bullets:
Most automobile shoppers (54%) say that their online research was the primary medium which led them to choose a specific dealership.
Plus-sized women (32%) say their bust is their best feature, followed by their hands (24%) and their legs (20%).
Working moms (57%) claim the best part of going on a business trip is having some personal time.