Key Findings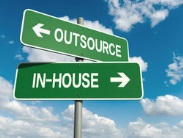 The Ins and Outs of Online Marketing
Quality, control and the bottom line – three things that companies should consider when deciding whether to outsource online marketing efforts or to keep things in-house. There are pros and cons to each, and while the bottom line is probably the first thing that comes to mind, quality and control are just as important. Tasks that can be handled by individuals outside your organization, without negatively affecting quality, make good candidates for outsourcing. However how much control will you have once the task is outsourced? Finally, will you save money by outsourcing or are the added benefits worth the extra cost?
There are three questions a company should consider:
Will the quality of the work suffer?
Will I lose control over how the work is managed or completed?
How will the decision to outsource affect my bottom line?
According to Joshua Steimle, a Forbes.com contributor and online marketing guru, there is no standard rule of thumb for deciding what to outsource. Every situation is unique and the only way to make smart outsourcing decisions is to handle each situation independently.
An example of an area which should be considered for outsourcing is SEO, and price, while just one part of the equation, will have a big influence on how you handle SEO. According to recent industry averages, an entry-level SEO specialist will demand a salary around $50,000 per year. The more experience you require the more expensive it becomes, with a true industry expert running closer to $100,000 per year. Also worth noting, an effective SEO campaign will likely require more than one employee, so planning for two or three is wise. This drives the price up considerably making outsourcing more appealing.
Content marketing is another great example of one of the easiest things to outsource. There is no shortage of quality writers looking for work, and most are willing to sign on as a contractor, which is cost-effective. Web design on the other hand depends more on how comfortable you feel with quality and control because you are giving a third party access to some of your most valuable information. While most companies providing this service are probably trustworthy, studies have shown that 63% of data breaches are directly related to outsourcing tasks.
Ultimately there is no clear answer on whether to outsource your online marketing efforts or keep them in-house. It almost always comes back to the three questions regarding quality, control, and cost. By weighing the positives and advantages related to each of these factors, you can make an educated decision that will point your business in the right direction.
Email is Here to Stay
In a recent article "For E-Mail Newsletters, a Death Greatly Exaggerated", the New York Times said "Email newsletters, an old-school artifact of the web that was supposed to die along with dial-up connections, are not only still around, but very much on the march." Newsletters may seem old-school to some and email may seem archaic compared to social media marketing, however, email is still the preferred method of commercial communications by 74% of all online adults, according to a recent survey by Merkle. And newsletters continue to be a great way to communicate consistently with your customers. Company newsletters and email campaigns boost sales, after all, these customers have already signaled their interest in what you're offering by providing their email address and opting in to receive your content. If well written and targeted correctly, email marketing messages can deliver the right content to your prospects at precisely the right time, resulting in high response rates from quality prospects.
But the key to a successful email/newsletter campaign is that the email gets opened and the newsletter is read. Some ways to make your newsletter most effective include the following:
A clean design that is smartphone friendly – each element should be easy to find. 64% of key decision makers are viewing email on their mobile devices, according to MailerMailer's

 

E-mail Marketing Metrics Report, so make sure your content is easily viewed on such devices.
Many people read email with graphics turned off so your design should take that into consideration. According to a recent

 

MarketingSherpa

 

survey, only 33% of those surveyed have images enabled in their email provider.
Grab their attention in the subject line. Find a concise phrase that highlights the most important information in the newsletters.
Include valuable contents. Customers need a good reason to add more email to their already overflowing in-boxes, so make your newsletter valuable by providing content that is relevant to your reader.
Timing is everything. Would you read a newsletter late on a Friday afternoon? Probably not, so you can guess that this is not the best time to send yours out. In order to determine the best time for you to send experiment with sending your newsletter on different days and times, then analyze your click through rates to see when the most effective time is for you.
Be careful how frequently you email. If you email too frequently you might be considered a spammer, however if you email too infrequently customers may become less likely to remember your brand. Once or twice a month is a good rule of thumb for most companies.
Provide expert information, industry news, and other content that your customers will be interested in so they will look forward to receiving your email and want to open and read it every time it arrives.
Use a clean, up-do-date mailing list.
Make sure the email is easy to act on by placing your call to action at the top of the message where the reader is mostly likely to see it.
Avoid JavaScript or external CSS because every email client interprets the code differently. The vast majority of mail programs will not load your style in the way that it was originally intended.
73% of marketers agree that email marketing is core to their business and 60% claim that email is a critical enabler of products and services. 20% of marketers say that their business' primary revenue source is directly linked to email operations and 43% of businesses have email teams of 2-3 people. 74% of marketers believe email produces or will produce ROI in the future and for 69.7% of U.S. internet users, email is the preferred method of communication with businesses. (pardot.com). These are just a few statistics that support the fact that email really is here to stay.
The Misery of Flying
Fly the Friendly Skies – an oxymoron if ever there was one. It's more like flying the un-friendly skies these days as service has become less of a priority. Few experiences are as universal to Americans as the shared degradation and misery of flying on our nation's air carriers. Airlines have somehow managed to wrap up everything wrong with this country and present it to us as a package deal: income inequality, corporate indifference, dwindling services, automation and skyrocketing prices all combined to make flying a tortuous chore rather than a pleasure.
If you thought late departures, losing luggage and overbooking flights was bad, now travelers can look forward to smaller seats and less leg-room. Boeing is planning to bring its new short-haul 737 MAX aircraft to service in 2017 with 189 seats, compared with the approximately 160 seats that it now has in the 737-800. Budget carrier Ryanair's version of the new jet will have 200 seats. And this is not just a domestic problem. Europe's Airbus, which was originally intended to have 180 seats in its A32neo has received permission from the European Aviation Safety Agency to cram in 15 more seats, bringing total passenger capacity to 195.Talk about a tight squeeze, especially when you consider that at least 20% of the population is wider than the standard seat design. Squish!
It's all in the seat pitch, the distance between your seat and the seat in front of you, and inches count. In fact, the loss of a single inch can mean the difference between a halfway comfortable flight and well, a not so comfortable flight. The industry standard for seat pitch in coach used to be about 33 inches. Today it is closer to 30 or 31 inches. In the new Boeing and Airbus jets, seat pitch could be as low as 27 to 29 inches. The roomiest economy seats you can book on the nation's four largest airlines are narrower than the tightest economy seats offered in the 1990s.
It might be time to consider the "Knee Defender" — a product that prevents the person in the seat in front of the user from reclining – or to expect a face-plant should he recline. Unfortunately, the Knee Defender comes with its own set of problems, specifically the possibility of getting kicked off the plane. We probably just need to accept these smaller seats and other discomforts of flying as the new normal. On the flip side, perhaps it will encourage Americans to slim down.
America, Time to Take Care of Yourself
It's no secret. America is one of the most unhealthy countries. On average, Americans die sooner and experience higher rates of disease and injury than the populations of 16 other high-income countries, including Australia, Austria, Canada, Denmark, Finland, France, Germany, Italy, Japan, Netherlands, Norway, Portugal, Spain, Sweden, Switzerland, and the United Kingdom. This applies to Americans of nearly all ages, from birth to 75, and includes those with college educations, medical insurance and even those who follow healthy behaviors, and is in spite of the fact that the U.S. spends more on healthcare than the next 10 biggest spenders combined: Japan, Germany, France, China, the U.K. Italy, Canada, Brazil, Spain, and Australia.
The biggest problem areas are in cardiovascular disease, diabetes and obesity, all of which could and should be prevented rather than having to be treated.
Our society is experiencing a sharp increase in the number of people who suffer from diabetes, heart disease, cancer, mental illness, and autoimmune disorders, and the acute-care approach taken by most physicians is ill-equipped to address such complex and chronic diseases. Conventional medicine does not necessarily help us understand why we get sick and how we can get better, and current medical education does not effectively train doctors in nutrition or in lifestyle related chronic diseases. Functional Medicine is a different approach, with methodology and tools that are specifically designed to prevent and treat chronic diseases. Functional Medicine addresses the underlying causes of disease, using a systems-oriented approach and engaging both patient and practitioner in a therapeutic partnership. By shifting the disease-centered focus of medical practice to a more patient-centered approach, Functional Medicine addresses the whole person, not just an isolated set of symptoms. It takes into account the unique genetic makeup of each individual and explores the aspects of today's lifestyle that have a direct influence on the rise in chronic disease in modern Western society, critical environmental factors such as stress, diet and exposure to toxins. It encourages applying strategies such as nutrition, diet and exercise to both treat and prevent these illnesses.
Functional medicine shifts the way we see disease by viewing health conditions not based on symptoms but on root causes. It's a view that understands the body as a complex ecosystem influenced by environment, lifestyle, diet, mindset, and more. It tells us health is a state of balance, and when our system is out of balance that's when disease occurs. By focusing on the imbalances such as the immune and digestive systems, as we treat the underlying issues, the things we call diseases get better as a side-effect of creating health.
Functional Medicine enables physicians and other health professionals to practice proactive, predictive, personalized medicine and empowers patients to take an active role in their own health.