Kids Preparing for the Future at the All Earth EcoBot Challenge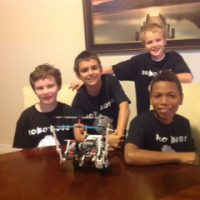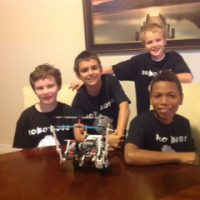 A few weeks ago the workers of tomorrow took over Reliant Center with the All Earth EcoBot® Challenge, an opportunity for students in grades 5-8 to develop critical problem-solving skills in real-world situations that will help prepare them for the 21st century. Teams of four integrate math, physics, and computer skills from the classroom to design and build robots that perform real-world environmental tasks. The challenge not only reinforces the skills students learn in school, it shows them how improving those skills could help them lead productive lives.
The teams design and operate robots to complete a series of different missions. The symbolic missions connect to the commercial and industrial future of energy exploration, transportation, technological innovation and medical research. The missions also educate kids about environmental issues such as sustainability, recycling, reusing, reducing and energy conservation.
The contest is free and open to all students in Texas. With the help of the Education Foundation of Harris County the competition has grown from a local to a statewide event, attracting thousands of students each year. The objective is to keep students interested in math, science and technology at a time in their lives when they often lose interest in the subjects.
According to Rehak Creative Services who supported the 2014 EcoBot Challenge, the challenge excites students by demonstrating the real-world usefulness and workplace applicability of school-based learning and computers. It helps young learners aspire to technological careers and is great fun. It is a three-month long after-school activity that culminates in a huge "Bot-off" in Houston, usually around Earth Day. Robotics experts from around the world have attended the event to share their experience with the students. Parent and coach Nicole Primeaux said of her team from Lakeshore Elementary "They displayed teamwork and grace under pressure, and learned how important it is to communicate with one another and those around them. What they learned yesterday can only come from them experiencing it first hand."
Robotics is the branch of technology that deals with the design, construction, operation, and application of robots as well as computer systems for their control, sensory feedback, and information processing. These technologies deal with automated machines that can take the place of humans in dangerous environments or manufacturing processes, or resemble humans in appearance, behavior, and/or cognition.
Robotics is a multi-disciplinary tool that is being increasingly used by over 5,000 schools worldwide to motivate, excite and inspire children about math and science. Robotics inspires students to make connections across several disciplines rather than learning topics in isolation as it combines mechanical, electronic, electrical and programming skills. Students are inspired to learn by creating their own robotic devices, while at the same time gain a deeper understanding of interdisciplinary fields of study. Teammates Kyle Primeaux and Patrick Keating both said their favorite thing about EcoBots was building and playing with a robot and getting to hang out with their friends.