The Heartbreaking Saga of Valentine's Day Candy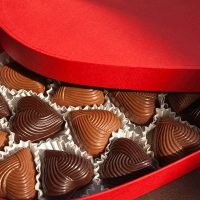 More than 120 years before a clucking rabbit made their chocolate synonymous with Easter, Richard and George Cadbury had taken over their father's ailing tea business. Shifting their product line, they pitched cocoa and chocolate drinks to Victorian England's most prosperous families—those who could afford this luxury. This was 1824 and the cocoa beans were hand-ground by John Cadbury himself. The product was self-marketed as "a most nutritious beverage for breakfast."
Cocoa laced with potato flour or palm (sago) was rampant at the time and the Cadburys sought to produce a better-tasting result. Eventually, they traveled to Holland where they discovered the cocoa press. Bringing this richer type of cocoa back to England, they marketed "cocoa essence" as "Absolutely pure…therefore Best." The resulting hype helped spur on the Adulteration of Food Acts of 1872 and 1875, affording Cadbury major free advertising and the title of "manufacturers of cocoa and chocolate to Queen Victoria."
The Cadburys made a name for their company worldwide. They're also credited with creating the first-ever heart-shaped box of chocolate for Valentine's Day. These boxes are so popular today that 58 million pounds of chocolate are purchased during Valentine's week with 43% of people saying they would even buy a box of chocolate for themselves.
Since hitting the market, heart-shaped boxes of chocolate had long been at the top of the best-selling list of Valentine's Day candies. That changed in 2017, when those chalky, curiously flavored, innuendo-laced conversation hearts known as SweetHearts took the lead at 10.2% of total Valentine's Day sales. In 2018 SweetHearts remained on top with 10.5% of total sales, whereas heart-shaped boxes of chocolate dropped to 9.7%.
Beginning this year, however, SweetHearts are no longer on the menu. The company that manufacturered them, the New England Confectionary Company (Necco) went out of business last July, leaving $1.8 billion dollars of Valentine's Day candy sales up for grabs. Necco was the oldest continually operating candy company in the United States, in operation since 1847.
Necco had been sold at auction to Round Hill Investments for $17.3 million in May 2017, with operations intended to continue until November. But it was again sold in September to Spangler Candy Company—just not in time to create conversation hearts for Valentine's Day. Sadly, it takes manufacturers eleven months to produce the roughly 19 million pounds of hearts needed for Valentine's Day sales. Spangler has been around since 1906. The company is best known for Dum Dums and those infamous orange Circus Peanuts, which have been described as a "mixture of fascination and disgust."