Optimizing your Internet Investment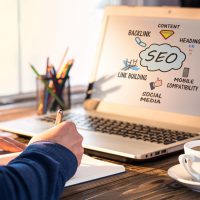 No one has been able to tell you how much to spend on your site's SEO marketing, until now
The question is no longer whether you should optimize your business website for search engines, but how much you are willing to spend. You want your business to be the first to show up on search engines and so do your competitors. Media forecaster Borrell Associates estimates that businesses spent $613 billion on all digital marketing services in 2016 with $65 billion of that on Search Engine Optimization (SEO) alone. SEO helps promote business performance, increase brand awareness, and entice new customers via systematic audience targeting in today's digital landscape. A typical SEO campaign will focus on:
Keyword research – finding the right words or phrases that draw the correct audience to your site and communicating those to the major search engines
Website technical editing – behind the scenes optimization communicating to the search engines
Link building – establishing links between other businesses' sites (the more popular the better) and yours
So how much will it cost? Forbes likens the pricing to taking your car to a mechanic – it depends on who you ask, what kind of car you are driving, and how you use the car. SEO will give you a higher return on investment than standard marketing alone so take the time to vet your options. Audits of your site's performance, specific project costs, and hourly pricing vary, but your typical monthly cost may be:
$250-$500 for small, local organizations; don't expect to get much (and run the risk of shady practices) at this price.
$700-$1,500 for local firms trying to reach a larger targeted audience without much competition.
$2,000-$6,000 for regional, national, or international enterprises or those with a niche market without much competition.
$10,000+ for national or international companies that require consistent creative content.
When combining SEO with the following marketing tactics, you can strengthen your brand and get closer to that umber one spot on Google:
Presence management – presenting and drawing traffic to the professional brand
Public relations – managing the spread of information
Listings management – managing and distributing the business listings
Content creation – developing educational, entertaining and engaging media for the business' audience
Reputation monitoring – shaping the business' public perception via information published online
App development – creating a relevant and interactive mobile or tablet application
Email – building loyalty, trust, and brand awareness through e-mail marketing